Cork International Choral Festival Celebrates World Choral Day
with Festive Favourites at Glow Festival!
Sunday 11th December, 1pm - Grand Parade, Cork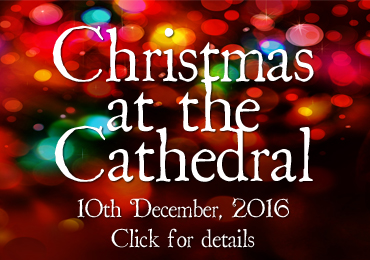 December 2016 – On Sunday the 11th December, Cork International Choral Festival launches their exciting 2017 Gala Concerts box office in celebration of World Choral Day. This year will be the Festival's 63rd and will reaffirm its position as the longest running Festival in Cork. As part of the Glow Celebrations in marking World Choral Day, Cork International Choral Festival will bring together a great number of voices, including children from the Cór Scoil an Spioraid Naoimh Cailíní, Java Choir, Forte Choir, SCRUBS-CUH Workplace Choir and An Cór - Cork County Council Staff Choir to perform on Grand Parade from 1pm to celebrate World Choral Day and to get us into the Christmas Spirit!
The newly launched programme will see everything kick off at the Opening Gala Concert on Wednesday 26th April 2017 with the world-renowned Verdi's Requiem performed by the Fleischmann Symphony Orchestra. Verdi's Requiem, one of the most frequently performed major choral work, will be brought to life in Cork City Hall through the voices of Cara O'Sullivan (soprano), Raphaella Mangan (mezzo soprano), Owen Gilhooly (tenor), John Molloy (bass) and a Festival Chorus comprised of East Cork Choral Society, Cór Cois Abhann and Cantairí Mhuscraí, conducted by Keith Pascoe. Pre-concert recital will feature the Band of 1 Brigade.
The following Gala Concert on Thursday 27th April will have Grammy Award-winning The Swingles return to Cork showcasing their amazing vocal talents. Based in UK, The Swingles is one of the world's finest vocal ensembles. For more than half a century, The Swingles have pushed the boundaries of vocal music. The seven young singers that make up today's London-based group are driven by the same innovative spirit that has defined the formation since their early days. At a time when a cappella music is more popular than ever, The Swingles are recognised as masters of their craft and will surely bring a wonderful energy to Cork City Hall. A night of entertainment and vocal quality not to be missed!
Friday 28th April will leave you spoilt for choice.  The 7.30pm concert in St Fin Barre's Cathedral from Chamber Choir Ireland (Festival choir-in-residence) premières not only a newly commissioned work from composer David Fennessy, but also from the winner of this year's Séan Ó Riada Competition for Irish composers. That evening gets even busier with the late-night concert Evocations set to take place in the Cathedral of St Mary & St Anne at 10.30pm. The evening will platform one of Ireland's top award-winning chamber choirs, New Dublin Voices with a serene and ethereal programme.
With 16 International groups already confirmed for the Festival, 2017 looks set to maintain its high standard and cosmopolitan appeal, ensuring its artistic future and integrity as one of the world's most prestigious Choral Festivals. In light of that prestige we have the International Fleischmann Gala which will take pride of place on Saturday 29th April in City Hall, where some of the world's top amateur choirs compete for one of the most prestigious prizes in International standards.
The Closing Gala Concert in City Hall on Sunday 30th April will mark the end of a jam-packed Festival week with International choirs presenting choral music representative of their musical and cultural backgrounds in a joyful celebration of song and colour.
Festival Tickets are available for purchase through the online booking system at www.corkchoral.ie, and in person from the Festival Box Office at The Everyman, McCurtain Street. So get set this Christmas with the perfect gift for you or a loved one and get booking to ensure your May Bank Holiday weekend will be the one to have you singing in the city, the ultimate soundtrack to your social life.
The Cork International Choral Festival gratefully acknowledges the financial support of The Arts Council of Ireland, Fáilte Ireland  Ireland's Ancient East, Cork City Council and Cork County Council.